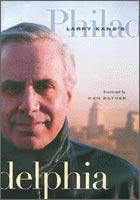 "It's just what you'd expect from Larry Kane-an engaging and indispensable primer for anyone who wants to practice politics in Philadelphia."
-Tom Ridge, Secretary of Homeland Security
Larry Kane, dean of Philadelphia news anchors, arrived in town to take a job as a radio broadcaster on September 12, 1966. Driving across the Walt Whitman Bridge he spotted several fires raging to the south. After paying his toll, he drove to a pay phone and called the fire emergency line. The dispatcher responded, "Whateryoutawkin about? Them there's oil refineries." Thirty-four years later, Larry knows all about the oil refineries. In fact, there's very little that goes on in Philadelphia that he hasn't reported on at one time or another. And it's all here in this easy-reading look at Philadelphia government and politics, and the trials of a journalist trying to cover them. For Larry Kane watchers, this book answers some nagging questions: Why did he leave for New York and why did he come back? What's the story behind the Bill Green lawsuit? Does he apply his own makeup? Larry is candid about his own mistakes, and about his successes. He talks about his insecurities and the strain of living life in the spotlight. But this is first and foremost a book about Philadelphia by a man who knows the city intimately. Order Larry Kane's Philadelphia from Amazon.com!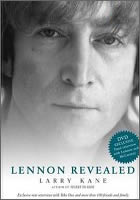 From Booklist – Gordon Flagg, American Library Association.
Kane met John Lennon when he traveled with the Beatles on their American tours, which he chronicled in Ticket to Ride (2003). Now, 25 years after Lennon's murder, he offers an affectionate but clear-eyed look at the musician's life, based on his recollections and interviews with many of Lennon's friends and associates. Eschewing chronological treatment, Kane proceeds somewhat disjointedly, dividing the book into chapters on such aspects of Lennon as his significant relationships (including with second wife Yoko Ono and paramour May Pang), wild streak, peace activism, love for New York City, and relations with the other Beatles, particularly Paul McCartney. Perhaps because Kane is a reporter rather than a critic, he downplays Lennon the musician; otherwise, he reveals many facets of a complex figure. If the book ultimately doesn't constitute a definitive portrait, it demonstrates why expecting one is probably futile. Yoko Ono told Kane that Lennon "didn't want people to just adore him. He wanted people to know what he [was] made of." Kane's account hews to that wish.Order Larry Kane's Lennon Revealed from Amazon.com!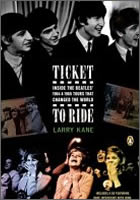 From Publishers Weekly – Reed Business Information, Inc.
John Lennon once said that the Beatles on tour were as debauched as the ancient Romans in Fellini's Satyricon. Outside of a description of a "happy" Lennon urging his band mates to "take your pick" from a group of hookers provided by an Atlantic City concert promoter, this highly entertaining account by broadcast journalist Kane, who covered the tour at the time, is as discreet about the Fab Four's sexual adventures as they were, although Kane notes that "women came and went from the Beatles' floor in most hotels." But in all other respects, from fiery airplanes and rioting fans to encounters with Bob Dylan, Joan Baez and Jayne Mansfield (the latter two seem to spend "quality" time with Lennon), this is a fantastic insider's look at the cultural explosion that was Beatlemania. It helps that Kane was only 21 at the time (the same age as Paul McCartney); unlike "dull-witted" reporters whom the Beatles came to disdain, Kane quickly noted "their indisputable naturalness and, to varying degrees, the depth of their humanity and their lack of phoniness." In turn, the Beatles rewarded Kane with many in-depth interviews through the tour (60 minutes of which are included on an accompanying CD), which Kane skillfully uses throughout provide the Beatles' own insightful view of the ongoing craziness surrounding them, as they travel from one chaotic hotel and concert scene to another. This is the most detailed description yet of the Beatles' American tours, and one of the few books on the band written in the past decade that can be considered indispensable. Order Larry Kane's Ticket to Ride from Amazon.com!