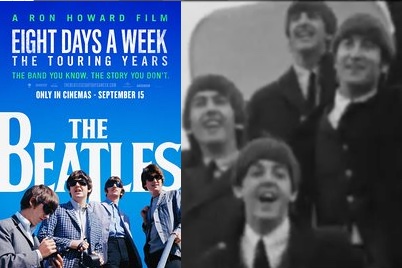 I have been invited to a world premiere in London September 15th of a movie that may be a seminal moment in the history of the Beatles. It's called The Beatles: Eight Days a Week – The Touring Years – a Ron Howard film.
First of all, if you think I love this movie, because I'm in it, you won't get the point. I love this film because of how close it takes you inside the real story of the Beatles.
Yes it is true. It was May, 1964. I was the News Director at WFUN Radio in Miami who, at the request of my bosses aggressively tried to secure one single interview with the Beatles in Jacksonville, the closest they were coming to Miami. I dispatched a letter to their manager Brian Epstein. Two weeks later, a return letter from Brian Epstein arrived. Inside was a surprise – an invitation to travel with the Beatles on their plane and in their entourage for the entire tour of 25 cities. It was a busy year; war escalating in Vietnam, a racial liberation raging across the country, and in my hometown, the escalating arrivals from Cuba.
Those are some of the reasons I argued with my bosses that there was too much important news going on in 1964. "Why should I waste my time," I said, "Why would I want to travel with a band that will be here in September and gone in November." So, I decided, brazenly, I would not go on tour with a band.
Oops!
Sometimes, in life, you never know when you are staring history in the eye.
I mean, really, who would know that months later, I would describe this experience on the radio as a "cultural, generational change that would become one of the most important events in this century, and maybe beyond."
We now fast forward to almost 52 years later.
My wife, Donna joined me this year at a private screening of a rough cut of the movie. I entered the small lounge leading to the screening room and walked into Ron Howard. " Hi Larry," Ron said. I replied, "Hi Ron." We chatted for a minute. Ron is as casual and relaxed as he appears, very approachable, and natural. I was astonished that he recognized me. Many months before I had agreed to work on this project as a consultant, and interview subject. I was invited to do this by Jonathan Clyde of Apple Corps and I was certainly excited. There were interviews, lots of phone calls, exchange of information, and it turned into a very enjoyable process. In the beginning I was thrilled to be part of the process, but even after the interviews in Hollywood, I had no idea where this film was going, or that my role would be anything but a few interviews or observations. It turned out differently.
I did know that something intriguing was up. After all Ron Howard was directing. Apple Corps had thrown its power behind the project.
What I didn't know was the extent of the multi-year, worldwide effort to gather the film, the pictures, the stories and the news footage, the absolute quest for authenticity, the desire to explain the question most asked – why did they stop touring? And the revelations by Paul McCartney about the source of one aspect of John Lennon's messages inside the music. I knew very well how nervous the "boys" could be, but Paul's admission of their fright at the time was as revealing as was Ringo's take on the arrival in America.
The passage of time erases reality, and can distort the way things really were. For millions of people, most of them younger, there is little knowledge of the trek that brought the Beatles to where they went, and what they became. Few can vividly remember how wild it was.
As a reporter, there is a truth: you may never know you are witnessing history when you are actually in the middle of it. And by chance, I was there at every stop in 1964 and 1965 and a few in 1966. That's why the film had so much meaning to me because it takes you there. The concert film is graphic and up close, rare and unseen. You feel that you can almost touch the faces. Brilliantly woven through the story, from the underground Cavern in Liverpool, to the concert venues, are the faces, words and gyrations of the hundreds of thousands who savored the men and the music. When this material is described as "exclusive", the word becomes an understatement. You become a fly on the wall as you join the "boys", as their close friends called them, on the plane, in their dressing rooms, hotels, and their famed recording studios. You hear their words; feel their energy on-stage, at joyous, monumental and troubled moments. When you watch this documentary, you are "there." I was "there.'' Their voices resonate amid the soaring sounds of idolatry and passion, the crowds of hundreds of thousands, to the individual fans, massive motorcades through the streets of Australia, Canada, Asia, United States, Europe and the communities of the United Kingdom. The first "rush" of Beatlemania will be exposed, as it was – a careening cyclone swirling through the airwaves and human minds – a connection between four men, their music. The voices and faces of the 1960's Beatle fans pop out with words and emotions that no writer can ever capture. I always thought my book on the tours was a decent account of life in that time-period, but Ron's film goes far beyond, vividly showing the cultural impact with some well known people helping to provide the eyewitness commentary.
And now, I ask a question. How many times in our life has one band of four brought such happiness to so many people, and left such impact? History was made.
Back in 2003, when my Ticket To Ride book was released, some critics took me to task for describing the Beatles as a tonic following the assassination of President Kennedy. Others called me a pseudo-sociologist for suggesting that the Beatle fans of 1964 became the young masses in 1966-1968 who began protesting war and oppression. But right in this film, you see the Beatles growing up to seek new aspects of life and living, just as their raving, happily maniacal teenage fans of the earlier years, were maturing and looking for truth years later. In Ron's film, it becomes a relationship that changes before your eyes.
The ending is so poignant it will leave you breathless as body language and the visible changes in the boys echo through the air on a cold day in London.
The story of the touring is captured with surprises that few really know about – the stands they took that changed the political climate with a special emphasis on the racial climate in America, and a date with destiny in Jacksonville that changed America. Their convictions turned the courage of their beliefs into decisive moments of history, musical and cultural.
Millions and millions of people have listened to the Beatles. Fewer have been to their concerts. But beginning in mid September they will arrive in theaters and on your home screens. The film debuts in U.S. theaterss September 15TH, and will include exclusive footage from the Beatles 1965 Shea Stadium Concert that can only be seen in theaters, and on September 17th HULU will exclusively live stream the film to its subscribers. The viewer will see them as they have never before. I have seen 52 Beatles concerts "live," every stop in 1964 and 1965 and a few in 1966/ It was impossible, I thought, for any one to re-create what happened. But as I listened to the voices, and the concert music, I felt I was back there at the Hollywood Bowl, Shea Stadium, and in Denver where the rooftops of the motorcades were capsizing under the weight of people climbing on the top of them. The interviews with John and George are magnificent, and the present-day recollections with Paul and Ringo are emotional, somewhat tearful, and funny. Funny is a Beatles treat that younger viewers will be stunned by. They were blunt and funny and instantly captivating.
The trailer says "The Band You Know…The Story You Don't." That's accurate, because the only way you can get a real story is to see it as it happened, and from the faces viewed and voices heard at the time the story happened.
Here is a final note. I have been accused of being an unabashed Beatles "homer." I confess that it is true, although I've never hesitated to deal with controversies. But I like and respect them, and I make no excuses, especially for a young reporter who was consoled by two band members at a time of devastating loss.
I'll report back from the premiere.
NOTE: White Horse Pictures' Grammy Award-winning Nigel Sinclair, Scott Pascucci and Academy Award®-winner and Emmy® Award-winner Brian Grazer of Imagine Entertainment are producing with Howard. Apple Corps Ltd.'s Jeff Jones and Jonathan Clyde are serving as executive producers, along with Imagine's Michael Rosenberg and White Horse's Guy East and Nicholas Ferrall.   Also executive producing is the film's award-winning editor Paul Crowder and Crowder's long-time collaborator, Mark Monroe, who is also serving as writer. Marc Ambrose is the supervising producer.
The project was originally brought to Apple Corps by One Voice One World.  OVOW's Matthew White, Stuart Samuels, and Bruce Higham are co-producing the film.